Hey! Welcome to my little part of romance land! I write award-winning sexy contemporary romance AND sexy historical Westerns. Why choose, I say? Please look around my website – sign up for my newsletter and join my exclusive Facebook group to get special announcements and exclusive deals: O'Keefe's Keepers: https://www.facebook.com/groups/1657059327869189/
Drop me a line and check out my latest release BAD NEIGHBOR!
Pick it up now – free on Kindle Unlimited, also available in paperback. AMAZON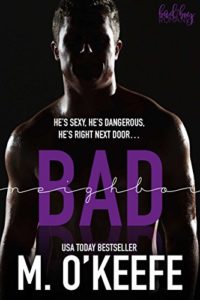 He's sexy. He's dangerous. He's right next door.
I gave up everything to save my sister from a monster, and now I'm lying low in this rundown apartment so I can stay out of danger. Hiding from everyone.
Except for the guy in apartment 1A.
He's rude. Silent. Muscled, mysterious, and hot as hell. I don't know if he likes me or hates me, but the more time I spend with him, the less it matters.
I want him.
And for the first time in my life I'm going to go after what I want.
She doesn't belong in my world.
From the second 1B moves in, I know she's keeping secrets. She doesn't belong here, much less with a street fighter like me.
But that doesn't stop me from craving her. Her softness and sweetness. She's a drug, and suddenly I'm addicted.
I know someone is going to try and hurt her and I can't let that happen. But unless I push her away and get her out of my world, that someone could be me…