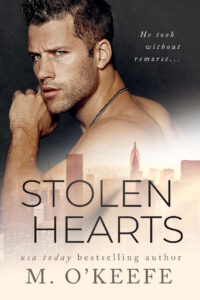 The flare of a cigarette and the handsome Irishman in the shadows–I wanted it all, but I wasn't allowed to want.
Ronan was danger and beauty, murder and mercy. To me, he was a mystery, but he was also the only man who ever knew me.
In that single stolen moment before I had to give my life to someone else, I imagined myself with him, the man with scars and bruises. The one who knew what hurting meant far more than I did at that time.
Instead I was given to another man, one who broke my soul right along with my bones.
Through it all, there was always that memory of the man in the shadows, the one who said–not in words–that I was strong, that I could endure, that I was more than just a princess in a ballgown.
Now Ronan is the only man who could keep me safe from two warring families that wanted my blood. The spark that started two years ago burned brighter with each touch, each glance, each kiss. He woke me from the nightmare, giving me life with soft touches and sharp words.
Two years ago, Ronan gave me strength, but he took something in return. I never gave him my heart, but hearts like mine are made to be stolen.
"M O'Keefe writes heart-gripping, breathstopping romance that leaves me thinking about the characters for years to come. An auto buy author!" — NYT Bestselling Author Skye Warren
"M. O'Keefe always delivers the best alphas, and Stolen Hearts is no different. Ronan is dark, dangerous, and dominating, and he owns me." – Laurelin Paige, NYT Bestselling Author
"Sophisticated, engaging, and will steal your heart. A five star read that I devoured!" – USA Today bestselling author Alta Hensley
AMAZON BARNES & NOBLE KOBO GOOGLE PLAY APPLE BOOKS AMAZON INT'L