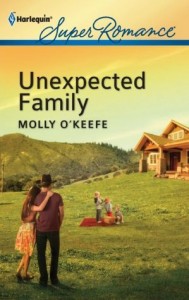 Jeremiah Stone: rodeo superstar. Good-time guy. Father of three? That's one pair of boots Jeremiah never expected to fill. Then his three nephews are orphaned, and his entire life changes. Not only is he now playing parent, he's also running the family ranch. It's almost too much for this cowboy.
Until he encounters Lucy Alatore.
He recognizes that look in her eye and knows a steamy fling could make him feel more like himself. But the intense heat between him and Lucy is distracting him from three little boys who need his undivided attention. He's forced to choose one over the other…unless he can convince Lucy this family isn't complete without her!
AMAZON IBOOKS BARNES & NOBLE KOBO GOODREADS
Praise for Unexpected Family
"UNEXPECTED FAMILY is a wonderful and nostalgic story of two lonely and lost people finding each other while focusing on the happiness of three small boys."—Fresh Fiction
"Both Jeremiah and Lucy are at a low point, and their insecurities are quite realistic — as is the attraction between them — in this emotional tale about getting a second chance at life."—RT Book Reviews
"The realism and authenticity of the characters and their emotions permeates every page."—Fresh Fiction
"Jeremiah and Lucy are complex characters that I could relate to, even if I've never gone through such extreme circumstances. These were two adults who made mistakes and were trying to reinvent themselves. I liked them very much and I found them to be original and refreshing in a very normal way."—Romance Around the Corner
"I like how O'Keefe handles a complex family situation with a large cast of characters while building a romance. The characters came alive for me in this story and kept me reading. I came to care for them! All in all this was a very good read for me. "—Impressions Of A Reader
"Interesting, damaged characters who don't behave in a conventional way, plus a solid secondary romance between an older couple. "—Wendy the Super Librarian
The Alatore Series