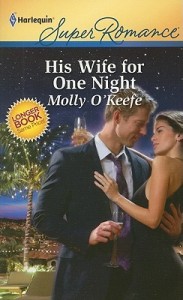 Jack McKibbon knows the score when he offers to marry his best friend Mia Alatore. He's fixing a bad situation for her—that's all—they aren't making a real life together. She wants to stay on the ranch and he's got his studies and inventions elsewhere. Still, this arrangement is a good deal for both of them.
Until that one night…
A sexy interlude with Mia makes Jack rethink their relationship…and their future. But all his plans grind to a halt when she asks for a divorce. Once upon a time, Jack might have agreed. But now that he knows the chemistry they share, he's not giving up a second chance to be with his wife.
AMAZON IBOOKS BARNES & NOBLE KOBO GOODREADS
Praise for His Wife for One Night
"The sparks that fly between Mia and Jack will keep readers entertained." -Romantic Times
"Sheer bliss… It's magic. Magic from the very first chapter." –Wendy The Super Librarian
"I ended this book anxious for the next in the series." –Dear Author
"I love this couple and the way O'Keefe makes her characters come alive with faults and strengths as they deal with the highs and lows on their way to happiness." –Impressions Of A Reader
The Alatore Series