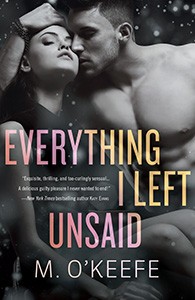 Fans of Jodi Ellen Malpas, K. Bromberg, and Joanna Wylde will be unable to resist this sexy, deeply intimate tale of a woman running from her past, and the darkly mysterious man who sets her free.
I didn't think answering someone else's cellphone would change my life. But the stranger with the low, deep voice on the other end of the line tempted me, awakened my body, set me on fire. He was looking for someone else. Instead he found me.
And I found a hot, secret world where I felt alive for the first time.
His name was Dylan, and, strangely, he made me feel safe. Desired. Compelled. Every dark thing he asked me to do, I did. Without question. I longed to meet him, but we were both keeping secrets. And mine were dangerous. If I took the first step, if I got closer to Dylan—emotionally, physically—then I wouldn't be hiding anymore. I would be exposed, with nothing left to surrender but the truth. And my truth could hurt us both.
AMAZON IBOOKS BARNES & NOBLE KOBO
BOOKS A MILLION INDIE BOUND POWELL'S GOODREADS
Praise for Everything I Left Unsaid:
"Exquisite, thrilling, and toe-curlingly sensual . . . a delicious guilty pleasure I never wanted to end!"—New York Times bestselling author Katy Evans
"I am head over heels in love with Everything I Left Unsaid by M. O'Keefe. Everything about this book hits the mark—the exceptional prose, the brilliantly defined characters, the delicious plot, and all the wonderful, dangerous secrets. It's an absolute must-read keeper-shelf book!"—New York Times bestselling author J. Kenner
"I couldn't put this book down. Annie's story is heartbreaking, liberating, sweet, and sexy—I want more!"—New York Times bestselling author Monica Murphy
"Sweet, sizzling, sexy, and heart-wrenching, Everything I Left Unsaid broke my heart and left me yearning for more."—New York Times bestselling author Megan Hart
The Everything I Left Unsaid Series