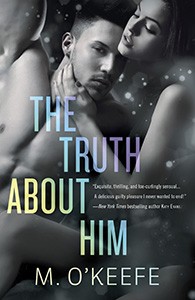 For fans of Christina Lauren and Jodi Ellen Malpas comes the next novel in M. O'Keefe's breathtakingly sexy series about a woman called into a journey of the heart, body, and soul.
We played our roles, told each other lies.
But now Dylan is no longer just a mysterious deep voice on the other end of the line. We're face-to-face and our relationship is very, very real.
We still have secrets—but so much is crystal clear:
The thrilling danger.
The raw, naked desire.
The need to keep feeling the way he makes me feel. Forever.
Dylan is putting up walls, trying to keep me safe, but he can't shut me out. He has seen my darkness and rescued me. Now it's my turn, if only he will let me.
AMAZON IBOOKS BARNES & NOBLE KOBO
BOOKS A MILLION INDIE BOUND POWELL'S GOODREADS
Praise for M. O'Keefe's Everything I Left Unsaid:
"Exquisite, thrilling, and toe-curlingly sensual . . . a delicious guilty pleasure I never wanted to end!"—New York Times bestselling author Katy Evans
"I am head over heels in love with Everything I Left Unsaid by M. O'Keefe. Everything about this book hits the mark—the exceptional prose, the brilliantly defined characters, the delicious plot, and all the wonderful, dangerous secrets. It's an absolute must-read keeper-shelf book!"—New York Times bestselling author J. Kenner
"I couldn't put this book down. Annie's story is heartbreaking, liberating, sweet, and sexy—I want more!"—New York Times bestselling author Monica Murphy
"Sweet, sizzling, sexy, and heart-wrenching, Everything I Left Unsaid broke my heart and left me yearning for more."—New York Times bestselling author Megan Hart
The Everything I Left Unsaid Series