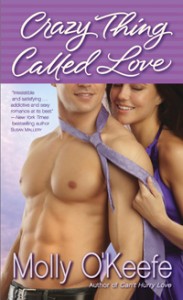 NAMED ONE OF THE BEST BOOKS OF THE YEAR BY NPR
In this poignant and deeply sensual new contemporary romance—perfect for readers of Susan Elizabeth Phillips and Rachel Gibson—Molly O'Keefe proves that lost loves don't have to stay lost forever.
Dallas TV morning show host Madelyn Cornish is poised, perfect, and unflappable, from her glossy smile to her sleek professionalism. No one knows that her iron will guards a shattered heart and memories of a man she's determined to lock out. Until that man shows up at a morning meeting like a bad dream: Billy Wilkins, sexy hockey superstar in a tailspin—still skating, still fighting, and still her ex-husband.
Now the producers want this poster child for bad behavior to undergo an on-air makeover, and Billy, who has nothing to lose, agrees to the project. It's his only chance to get near Maddy again, and to fight for the right things this time around. He believes in the fire in Maddy's whiskey eyes and the passion that ignites the air between them. This bad-boy heartbreaker wants a last shot to be redeemed by the only thing that matters: Maddy's love.
AMAZON IBOOKS BARNES & NOBLE KOBO
BOOKS A MILLION INDIE BOUND POWELL'S GOODREADS
Praise for Crazy Thing Called Love
"Molly O'Keefe is a unique, not-to-be-missed voice in romantic fiction . . . an automatic Must Read!" —New York Times bestselling author Susan Andersen
"This was a beautifully built book…If you love sports stories, the formally together trope, deeply emotional, and/or well-written contemporary romance, this is the book for you."
—Smart Bitches, Trashy Books
"An intense, heartwarming winner." —Kirkus Reviews
The Crooked Creek Ranch Series