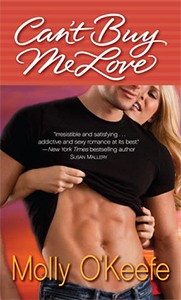 In Molly O'Keefe's captivating new contemporary romance, a woman with a past and a man without a future struggle to find a place where they belong.
A girl from the wrong side of the tracks, Tara Jean Sweet knows that opportunity will never knock; she'll have to seize it. Elderly Texas rancher Lyle Baker has a dying request: He will give Tara Jean a stake in his leather business in exchange for a little family subterfuge. All Tara Jean has to do is play the part of a gold-digging fiancée to lure Lyle's estranged children home. The mission is soon accomplished.
Now Lyle's gone—and his ridiculously handsome son, Luc, an ice hockey superstar sidelined by injuries, is the new owner of Crooked Creek ranch. He's also Tara Jean's boss. But being so close to sinfully sweet Tara Jean does crazy things to Luc's priorities, like make him want to pry her deepest secrets from those irresistible lips. But when Tara Jean's past demands a dirty showdown, will Luc stay and fight?
AMAZON IBOOKS BARNES & NOBLE KOBO
BOOKS A MILLION INDIE BOUND POWELL'S GOODREADS
Praise for Can't Buy Me Love
"Molly O'Keefe is a unique, not-to-be-missed voice in romantic fiction . . . an automatic Must Read!" —New York Times bestselling author Susan Andersen
The Crooked Creek Ranch Series