I'm so thrilled to let you know about my EVERYTHING I LEFT UNSAID and THE TRUTH ABOUT HIM preorder contests! The price for EVERYTHING I LEFT UNSAID has dropped to 5.99 and if you preorder and fill out the following form you are in the running for a $50.00 gift card from the e-retailer of your choice!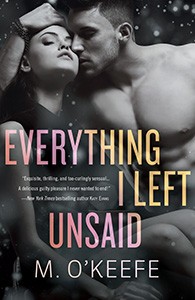 Fans of Jodi Ellen Malpas, K. Bromberg, and Joanna Wylde will be unable to resist this sexy, deeply intimate tale of a woman running from her past, and the darkly mysterious man who sets her free.
"I couldn't put this book down. Annie's story is heartbreaking, liberating, sweet, and sexy—I want more!"—New York Times bestselling author Monica Murphy
ORDER NOW: AMAZON | BARNES & NOBLE | IBOOKS | KOBO | MORE >
Pre-order Thank You Contest! Enter to win a 50.00 Gift Card from the eretailer of your choice! And you can enter to win another 50.00 Gift Card for pre-ordering the next book, The Truth About Him!