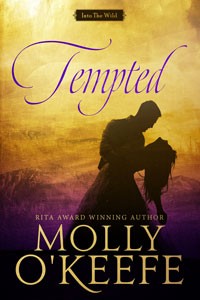 Book Two of the acclaimed INTO THE WILD series by two-time RITA-award winning and Bestselling author Molly O'Keefe

Denver, 1869
Annie Denoe has fought hard for her independence. She has a new life and new freedom as the assistant to a doctor, and though she risks both propriety and her safety, she is determined to be happy in a life on her own.
Steven Baywood is trying to rebuild his shattered life, even though the ghosts of his harrowing stay in Andersonville prison still haunt him. He craves Annie and her quiet strength, but he can't give her the love she deserves. When a tragedy changes everything for Annie, can Steven find peace with his past in order to give Annie a future?
Praise for Tempted
"Second in the Into the Wild historical romance series, Tempted, like its predecessor, Seduced, proves a fine punch to the reader-gut, tackling how the horrors of war inflict psychic wounds on men and women, obstructing and obscuring intimacy and love. "—Miss Bates Reads Romance
"The result is a touching and bittersweet story, with an overall feeling by the end of hope and a sweet romance between two people deserving of love and healing. 5 stars."—Straight Shootin' Book Reviews
The Into the Wild Series