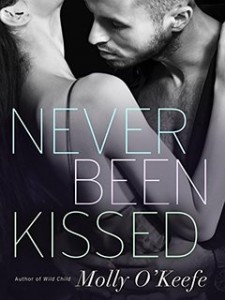 Perfect for readers of Susan Elizabeth Phillips and Rachel Gibson, Molly O'Keefe's second novel in her exciting new series—The Boys of Bishop—features an irresistible romance and unforgettable characters in a page-turning story that delivers equal parts emotion and humor . . . with a little edge to boot.
As the daughter of a wealthy politician, Ashley Montgomery has had enough of her parents' expectations for her future and is going her own way, volunteering to work at a refugee camp in Africa. But her act of charity turns dangerous when she takes a boat trip and is abducted by Somali pirates. Enter Brody Baxter, who was a bodyguard for the Montgomery family ten years ago and doesn't think twice about coming to Ashley's rescue. Handsome and tough, Brody has always done what needed to be done. So he swoops in, saves Ashley, and brings her to a place where she can rest and recuperate without the glare of the press and her demanding family: Brody's small hometown of Bishop, Arkansas. But Ashley soon realizes that she's not the only one in need of healing.
Holed up with Ashley in a tiny apartment over his brother's bar in Bishop, Brody is tempted and torn in ways he never anticipated. Beautiful Ashley, vibrant despite her ordeal, fearless enough to love him beyond his wall of self-punishment, is now determined to save him. But with a little faith and a lot of love, they just may find happiness in each others' arms.
AMAZON IBOOKS BARNES & NOBLE KOBO
BOOKS A MILLION INDIE BOUND POWELL'S GOODREADS
Praise for Never Been Kissed
"Never Been Kissed is a great book! It will hook you from page one. Ashley and Brody are perfect together. Ashley is the sweet next-door type and Brody is the brooding hero. The chemistry between all the characters is spot-on. . . . I can't wait to see what Molly O'Keefe has in store for us next!"—Fresh Fiction
"Incredibly well written, truly engaging and with characters who grab your heart, Never Been Kissed is a fantastic addition to Ms. O'Keefe's The Boys of Bishop series."—Guilty Pleasures Book Reviews
"The characters have a sweet chemistry with doses of humor and drama, and the plot develops into more than just the hero rescuing the heroine."—RT Book Reviews
"A fast-paced and engaging novel with a charming cast of likable characters . . . Never Been Kissed is another captivating romance in Molly O'Keefe's divine Boys of Bishop series. While it is a heartwarming love story between two incredibly complex individuals, it is also a wonderful journey of healing and self-discovery for the characters as well."—Book Reviews & More by Kathy
"[O'Keefe] has a knack for creating damaged characters whose only hope for healing lies in giving and accepting love. . . . This knack is on display again in the second book of her Boys of Bishop series. . . . She gives her readers a sizzling romance, but it is also a romance that develops in credible and emotionally satisfying ways. Her characters are always presented with rich contexts, and Brody and Ashley are no exception. . . . If you like imperfect characters who confront real issues and earn their happily ever after by learning and growing, I highly recommend this book."—The Romance Dish
"It's a second chance a romance that could never happen. . . . This is the story of a very broken man and a very strong woman determined to give him her love. A lovely, unique story and a great cast of secondary characters make this a fantastic read."—Smut Book Club
The Boys of Bishop Series