Hey! Welcome to my little part of romance land! I write award-winning sexy contemporary romance AND sexy historical Westerns. Why choose, I say? Please look around my website – sign up for my newsletter and join my exclusive Facebook group to get special announcements and exclusive deals: O'Keefe's Keepers: https://www.facebook.com/groups/1657059327869189/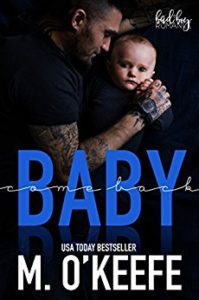 Check out my latest release BABY COME BACK!
Pick it up now – free on Kindle Unlimited, also available in paperback.
"Breathtaking and incredibly sexy, BABY, COME BACK is an emotional tour de force."
Skye Warren, NYT Bestseller

A MAN WITH NOTHING LEFT TO LOSE

I sold my soul a long time ago to pay my father's debts. Now my life is a prison: no friends. No family. Nothing it would hurt to lose.

I never should've touched Abby. I tried not to, but she is beautiful, magnetic, sexy. Everything I want but can't let myself have.

UNTIL HE MET HER

She seduced me not knowing who I was or what I really do in the shadows. I should have resisted her, but I wanted to be the man Abby thought I was for as long as I could.

But all debts must be paid, sooner or later. And mine are paid with blood.

Now Abby knows who I am, what I am, and she's run from me.

I would have let her go for her own good. But when I find out she's carrying my baby — there's nowhere she can hide…