Hey! Welcome to my little part of romance land! I write award-winning sexy contemporary romance AND sexy historical Westerns. Why choose, I say? Please look around my website – sign up for my newsletter and join my exclusive Facebook group to get special announcements and exclusive deals: O'Keefe's Keepers: https://www.facebook.com/groups/1657059327869189/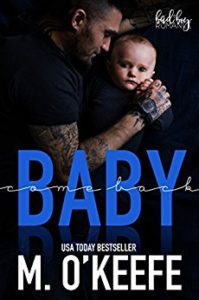 Check out my latest release BABY COME BACK!
Pick it up now – free on Kindle Unlimited, also available in paperback.
"Breathtaking and incredibly sexy, BABY, COME BACK is an emotional tour de force."
Skye Warren, NYT Bestseller

A MAN WITH NOTHING LEFT TO LOSE

I sold my soul a long time ago to pay my father's debts. Now my life is a prison: no friends. No family. Nothing it would hurt to lose.

I never should've touched Abby. I tried not to, but she is beautiful, magnetic, sexy. Everything I want but can't let myself have.

UNTIL HE MET HER

She seduced me not knowing who I was or what I really do in the shadows. I should have resisted her, but I wanted to be the man Abby thought I was for as long as I could.

But all debts must be paid, sooner or later. And mine are paid with blood.

Now Abby knows who I am, what I am, and she's run from me.

I would have let her go for her own good. But when I find out she's carrying my baby — there's nowhere she can hide…
M. O'Keefe can remember the exact moment her love of romance began—in seventh grade, when Mrs. Nelson handed her a worn paperback copy of The Thorn Birds.
Writing as Molly O'Keefe, she has written thirty novels, won two RITA awards and three RT Reviewers' Choice Awards. Her books have been on numerous "Best Of" lists including Publisher's Weekly, Kirkus and NPR.  She lives in Toronto, Canada, with her husband and two kids.