Hey! Welcome to my little part of romance land! I write award-winning sexy contemporary romance AND sexy historical Westerns. Why choose, I say? Please look around my website – sign up for my newsletter and join my exclusive Facebook group to get special announcements and exclusive deals: O'Keefe's Keepers: https://www.facebook.com/groups/1657059327869189/
Drop me a line and check out my latest release BAD NEIGHBOR!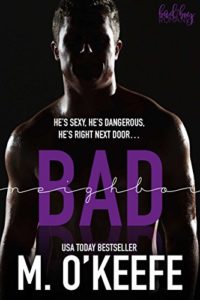 He's sexy. He's dangerous. He's right next door.
I gave up everything to save my sister from a monster, and now I'm lying low in this rundown apartment so I can stay out of danger. Hiding from everyone.
Except for the guy in apartment 1A.
He's rude. Silent. Muscled, mysterious, and hot as hell. I don't know if he likes me or hates me, but the more time I spend with him, the less it matters.
I want him.
And for the first time in my life I'm going to go after what I want.
She doesn't belong in my world.
From the second 1B moves in, I know she's keeping secrets. She doesn't belong here, much less with a street fighter like me.
But that doesn't stop me from craving her. Her softness and sweetness. She's a drug, and suddenly I'm addicted.
I know someone is going to try and hurt her and I can't let that happen. But unless I push her away and get her out of my world, that someone could be me…
M. O'Keefe can remember the exact moment her love of romance began—in seventh grade, when Mrs. Nelson handed her a worn paperback copy of The Thorn Birds.
Writing as Molly O'Keefe, she has written thirty novels, won two RITA awards and three RT Reviewers' Choice Awards. Her books have been on numerous "Best Of" lists including Publisher's Weekly, Kirkus and NPR.  She lives in Toronto, Canada, with her husband and two kids.