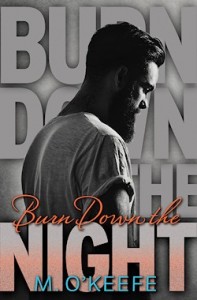 Pre-order BURN DOWN THE NIGHT and get a FREE SHORT STORY DOWNLOAD!
Go to http://www.randomhousebooks.com/campaign/burn-down-the-night/, pre-order the book from the retailer of your choice, enter the order number from your receipt, and click submit to claim your freebie.
The short story is a hot little number between stripper/conwoman and general woman of secrets Joan and dangerous, dangerous Max. The scene gets referenced in the book — and it's a whole lot of fun. Go forth — pre-order and get your free story.
M. O'Keefe can remember the exact moment her love of romance began—in seventh grade, when Mrs. Nelson handed her a worn paperback copy of The Thorn Birds.
Writing as Molly O'Keefe, she has written thirty novels, won two RITA awards and three RT Reviewers' Choice Awards. Her books have been on numerous "Best Of" lists including Publisher's Weekly, Kirkus and NPR.  She lives in Toronto, Canada, with her husband and two kids.