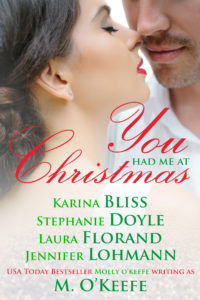 What's better than a little romance at Christmas?
Five romances at Christmas!
Snowbound friends become lovers. Enemies discover they mean far more to each other than they ever dreamed. A marriage in trouble is saved, and strangers find connection in delicious encounters… It's Christmas, and everything is possible.
A gift to you. Five beloved Contemporary Romance authors bring feel-good magic to the holidays in this specially-priced box set.
Amazon
BARNES & NOBLE
IBOOKS
KOBO
GOODREADS
PLAY by Karina Bliss
a Rock Solid romance
Rock star Jared Walker is within reach of career glory…but his marriage is in the pits. Determined to save it, he talks his wife into holiday dates with only one rule: they must pretend they are strangers.
But when he discovers what Kayla really wants for Christmas, will he be able to give it to her?
One Naughty Christmas Night by Stephanie Doyle
Workaholic Kate never expected to find herself looking for love online on Christmas night. Then John appeared on her screen and her whim to escape loneliness turned into the hottest sex of her life – even if it was via text. John knew Kate was too classy for his ex-con ass, but he was about to learn that Kate knew how to fight for what she wanted. And she wanted more of him.
Twelve Kisses Until Christmas by Jennifer Lohmann
Escaping her abusive father and small hometown to follow her dreams takes money Selina Lumina doesn't have. After a millionaire software developer offers her a ride out of town, she has to decide whether to follow her aspirations or take a chance at love. Could a snowbound night on the road turn into a Christmas miracle?
Snow-Kissed by Laura Florand
(previously published as part of the Snow Queen Series)
 
After the utter destruction of her marriage and her happiness, Kai knew it was better to shut herself away from the world than to hurt and be hurt.
Holed up in her mountain cabin, Kai plans to spend her Christmas alone. Until her not-quite-ex-husband shows up as the first flakes start to fall. Now should she send him back out into the cold? Or can she be brave enough to let this winter snow bind them back together?
Christmas Eve: A Love Story by Molly O'Keefe
(previously published in the Sweet Dreams Anthology benefiting Diabetes research)
Growing up in the mountains of Wyoming Trina and Dean had been childhood friends until the bitter feud between their families drove them apart. When the magic of Christmas Eve tips the star-crossed lovers together year after year, will they be able to make sure this holiday is not their last?