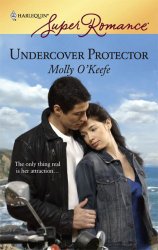 Special agent Maggie Fitzgerald has her mission. Go deep undercover as reclusive journalist Caleb Gomez's cleaning woman. Then swipe his intel on infamous crime lord Benny Delgado.
Unfortunately Caleb is much more, well, everything than Maggie bargained for and she's this close to letting down her guard and revealing all.— But how long can she lie to the man she's falling for?
With Benny hunting for Caleb, Maggie's got to decide if coming clean with Caleb will put more than just her mission in jeopardy. It could kill any chance they have together, too.