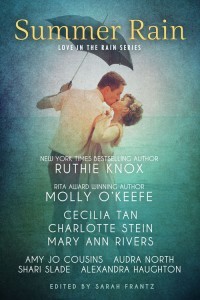 What happens when love gets caught in the rain?
In this romance anthology, RITA-Award winning author Molly O'Keefe shows us the power of a city thunderstorm from the top of a skyscraper, while Amy Jo Cousins soaks us in a rain in Spain. New York Times bestselling author Ruthie Knox's heroine is devastated by a winter storm, while a summer thunderstorm grants Alexandra Haughton's hero and heroine a second chance at love. Rain sparks self-awareness in the robot in Charlotte Stein's story and allows Mary Ann Rivers's heroine to fall in love with her hero and her own art. Rain causes romance between the college students in Audra North's and Shari Slade's stories, while romance causes rain in Cecilia Tan's myth-inspired tale of a sacrifice to a demi-god. Nine romance novelettes, edited by Sarah Frantz.
All proceeds from the volume will be donated to the Rape, Abuse, and Incest National Network (www.rainn.org), the largest anti-sexual violence organization in the United States. The second volume, Winter Rain, releases in November 2014 and features stories by Delphine Dryden, Inara Scott, Amber Lin, Serena Bell, Alexis Hall, Suleikha Snyder, Stacy Reid, Cole McCade, and Tamsen Parker.
AMAZON IBOOKS BARNES & NOBLE KOBO GOODREADS
Praise for Summer Rain
"SUMMER RAIN is a wonderful way to help people who have suffered from sexual violence, but it is also a collection of achingly beautiful romances so good that I bought my own copy. I wish I could give it more than 5 stars."—The Romance Evangelist
"Molly O'Keefe's story, The Heart Of It, is pretty much the most sweet and poignant story ever… Both characters are so compelling and damaged, but full of caring and hope. This story felt like the memory of a first crush: that shy time when you daydream about someone but never really pin your worth onto them and only find out later that they were thinking about you too."—LieToFine
"This is the perfect kind of book to pick up when you're short on time and want to dive into a satisfying story that you can devour in one sitting. It's also a perfect way of trying some new authors and I'm pretty sure that, like me, you'll end up discovering a few new favourites."—Feeling Fictional
"All the writing is powerful and the subject vital and engaging. It is a heavy read because you are in so many different, heartrending and compelling situations. This is a good thing."—Romance Novel Theme Park
"An unconventional story, this tale of the abused hockey player and the single mother call girl strikes at the heart, giving the reader tears as they share the intimate details of their pasts, forging a connection that withstands a separation and leads them both on a path to healing. Molly is never one to shy away from emotion in her stories and the characters are well portrayed and believable, the sexual tension giving way to true affection. It was a heartwrenching read."—Maria Rose, Goodreads reviewer
" I highly recommend this anthology of romance short stories, because not only are most of them excellently crafted and beautifully written, the writers donated these stories so that 100% of the profits from this anthology supports RAINN, the Rape, Abuse, and Incest National Network, a U.S. anti-sexual violence nonprofit… I've never read anything by O'Keefe before, but I'm definitely going to check out some of her longer works, because I loved this story."—Clio Reads