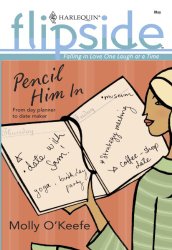 After busting her butt as an ad exec—and forsaking everything but peanut-butter cups—workaholic Anna Simmons finds herself out of a job. It's only for six months, of course, and the forced sabbatical should teach Anna work/life balance (as in less work, more life).
But Anna can't take it. She plots the most important campaign of her career—the pretend balanced life. And she'll enlist her oh-so-hot neighbor Sam Drynan to play her fake boyfriend—it's the perfect way to convince her boss she's ready to get back in the boardroom ahead of schedule!
So what happens when the make-believe make-out sessions start to feel anything but fake? And instead of sneaking into the office—she's counting the hours till she's free?
AMAZON BARNES & NOBLE KOBO GOODREADS
Praise for Pencil Him In
"I thoroughly enjoyed this fun read. I especially loved the way Camilla and Marie, Anna's sister put Anna through her paces to get her to do what they wanted without her even realizing it."—The Best Reviews