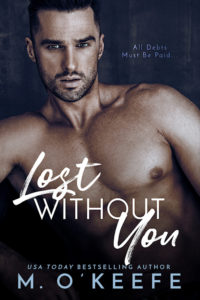 The Debt series, Book 1 / When We Were Young duet, Book 1
BETH
Tommy and I grew up together in a foster home that nearly killed us both. We loved each other with our whole hearts until the world tore us apart.
And now I'm in the back seat of his car and he won't tell me where he's taking me.
As the days pass, one thing is clear: the attraction between us is as powerful as ever. His kisses are still sweet. His touch irresistible. But I don't know if the boy I loved is going to save me? Or ruin me?
TOMMY
One last job and my debt to the dangerous man who holds my life in his hands will be paid. My slate wiped clean. To save my life I have to kidnap Beth, the only woman I ever loved, and deliver her to the one person who wants to destroy her.
She's just as sweet and beautiful as I remember and resisting her is impossible. But falling for her again could get us both killed.
Book One in the thrilling and romantic When We Were Young Duet
AMAZON
IBOOKS
BARNES & NOBLE
GOOGLE PLAY
GOODREADS