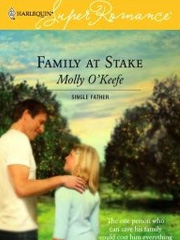 Finalist for the Bookseller's Best Award!!
Winner of All About Romance Best Series Romance Book of 2006!!
Finalist for a Cataromance Reviewer's Choice Award
Finalist for Best Relationship Novel on eHarlequin Readers Choice Awards
2006 All About Romance Reader Award — Best Series Novel (Winner)
Winner 2007 AAR Reader Poll
His daughter's secrets
Since becoming a single father, Mac Edwards has struggled to keep his small family together. But now his custody of his twelve-year-old daughter is threatened by the secrets she's keeping.
His last hope
In a bitter twist, their new social worker is the one person he can't trust—Rachel Filmore. Thirteen years ago she was his world…until she deserted him. How can he trust her not to destroy his family? And how can he trust himself to leave the past where it belongs?
AMAZON IBOOKS BARNES & NOBLE KOBO
Praise for Family At Stake
"Molly O'Keefe's Family at Stake (4) is an interesting story with a plot that will easily hold reader attention. Her depiction of a troubled teen is spot on." — Romantic Times
"In recent years I've read a lot more series romance. The main reason is probably just that I have been busier, and a shorter, quick read often appeals to me. Family at Stake is a meatier book, though, dealing with such weighty matters as abuse, child protective services, and troubled teenagers. Light and fluffy it isn't, but I enjoyed it very much nonetheless.
I would encourage anyone to pick this one up, even if you don't typically read series romance. It's more than a series romance, and more than an "issue" book. It's an engaging read about characters you can really care about, and definitely worth a look." — Blythe Barnhill, All About Romance
"Its realistic and strongly written characters make Family at Stake a winner. Very intense family situations, both in Mac's present and his and Rachel's pasts, keep this book interesting and fast moving. I am looking forward to reading more by Molly O'Keefe, who has what it takes to write a riveting contemporary romance, dealing with real people and real problems." — Marie Hashima Lofton, BookLoons
"The second chance at love subplot supplements a strong family drama." — Harriet Klausner, Midwest Book Reviews