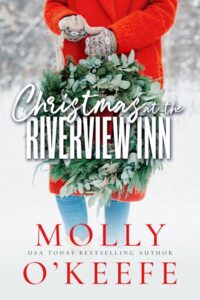 A Christmas promise brings two lost souls together at the magical Riverview Inn.
All the Mitchells have returned to the Riverview Inn for the season of light and love—including Josie, who hasn't been back for five years. She has thrown herself into her job, trying to forget the mistakes of her past. Trying to convince herself and her family that she's happy.
And she's doing okay—until Cameron shows up.
Cameron left the Inn and the only family he has ever known under mysterious and heart-wrenching circumstances seven years ago. Since then, he's lived a nomadic life, forming attachments to no one and no place.
But the memory of the night Cameron left—and the love they felt for each other—has haunted them both. Can the holiday spirit heal the wounds of the past? Will this Christmas give them a second chance at love?
AMAZON BARNES & NOBLE KOBO APPLE BOOKS